Hands up if you miss Pawnee…
While on the press tour for her new movie "Wine Country"…Amy Poehler discussed a Parks & Rec reunion.
Amy Poehler is 'Avengers-style ready' to be Leslie Knope in a 'Parks and Recreation' reunion https://t.co/tFyK2P9wUS pic.twitter.com/KngHJvziK1

— TV on UPROXX (@UPROXXTV) May 12, 2019
Poehler says she is "Avengers-style ready" to return as Leslie Knope.
All they'd need is their show-runner, Mike Schur. Unfortunately…Shur is currently working on The Good Place, Abby's and Brooklyn Nine-Nine.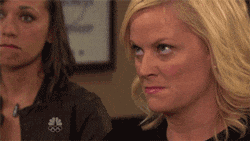 Image: rey is the name via Twitter