Talk about the ultimate build-up for a sequel!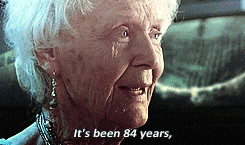 Okay, not 84 years, per say, but the original Avatar came out almost a decade ago!
Despite the sequel being slated for release back in 2014, the new date(s) are in!
The wait for #Avatar sequels just got even longer. Disney is pushing back James Cameron's franchise by a year. Details here: https://t.co/Fic83NYZtq#Avatar2 2021#Avatar3 2023#Avatar4 2025#Avatar5 2027 pic.twitter.com/D3MFiPTn2P

— IndieWire (@IndieWire) May 7, 2019
Superfans, as you can imagine, are less than impressed.
This is like the 5th delay for Avatar 2 and the nerd in me is PISSED https://t.co/Pe73D9JrVA

— Olivia (@_LivvyHope_) May 7, 2019
Sometimes I stop and realize that there's a whole slew of folks that have been working on Avatar 2 for like 15 years and I feel better about my own day-to-day productivity.

— Tim Mason (@TimMasonChicago) May 7, 2019
me, seated in the theater for Avatar 2 pic.twitter.com/ksLgiP4MrP

— Robert Kessler (@robertkessler) May 7, 2019
Considering that the original still sits as one of the best selling films of all time…I don't think the creators are too worried about another delay.
Image: @RottenTomatoes on Twitter