Even without the special effects, Avengers: Endgame still looks like a ton of fun!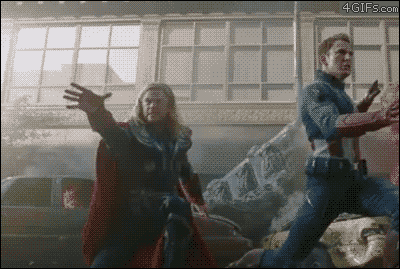 With the spoiler ban lifted, the crew are giving fans all of the goods.
There's so much to love in this little clip:
-Danai dancing
-Tessa laughing
-Mark having no clue what's happening
-Renner being Renner
-Rudd being Rudd pic.twitter.com/T8b6V1Xsp9

— Chris Evans (@ChrisEvans) May 12, 2019
I really think this look worked for us. Right, @chrishemsworth? #BehindTheScenes #AvengersEndgame pic.twitter.com/OsvtyfH87b

— Mark Ruffalo (@MarkRuffalo) May 13, 2019
Flashback to a little lunch @RobertDowneyJr threw while we were shooting @Avengers. What can I say, the music took hold of me…🕺🏻🤷‍♂️ @ChrisEvans #paulrudd @Renner4Real @Russo_Brothers @MarkRuffalo #scarlettjohansson pic.twitter.com/UfzHPxRsMY

— Chris Hemsworth (@chrishemsworth) May 7, 2019
This is like a Where's Waldo picture. I see Hulk, Antman, Thor, Hawkeye, Doctor Strange, Shuri, Okoye, and Falcon. pic.twitter.com/GuDwZEmegV

— Chris Evans (@ChrisEvans) May 9, 2019
WARNING – #AvengersEndgame SPOILERS IN VIDEO:

This behind-the-scenes footage from the set of #Endgame shows an unused take of an emotional reunion in the film:

(via @RobertDowneyJr) pic.twitter.com/Z4vfqU9Kx8

— MCU Direct (@MCU_Direct) May 12, 2019
Lizzie has a twisted sense of humor… 😂 #IW pic.twitter.com/VcFG7sn80c

— Russo Brothers (@Russo_Brothers) May 13, 2019
Part 1 pic.twitter.com/bpm8hVI3UL

— Chris Evans (@ChrisEvans) May 8, 2019
Part 2 pic.twitter.com/Vm5FNMvncr

— Chris Evans (@ChrisEvans) May 8, 2019
Even more to see HERE!
Image: @ChrisEvans on Twitter