#teamKristy
Next month…you'll be able to purchase new Babysitters Club books!
Now, let's clarify: These aren't NEW stories.
In fact, it's the original books (#1-6) with their original cover art!!
(I bet your inner Scholastic Book Club kid is doing back-flips right now.)
Big news for Baby-sitters Club fans — coming this August 28th, BSC books #1-6 will be available with the CLASSIC COVERS in this retro tin! It's the perfect addition for your Kid-Kit 📚 #babysittersclub #bsc pic.twitter.com/8I0lZkN5aC

— Scholastic (@Scholastic) July 5, 2018
The books go on sale (in a special collector's tin) August 28th. You can pre-order them now on Amazon!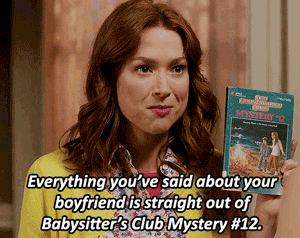 Image: The Babysitters Club via Facebook