The Wyld Stallyns are back! [insert guitar riff]
Big news yesterday…Keanu Reeves & Alex Winter are both confirmed to be starring in "Bill & Ted Face The Music".
Keanu Reeves and Alex Winter detail the long-awaited third installment of the 'Bill and Ted' adventure https://t.co/BhiS1FWdfl pic.twitter.com/XUH8jgMaDa

— Rolling Stone (@RollingStone) May 8, 2018
In a nutshell:
It's been decades since Bogus Journey. Bill & Ted are now middle-aged. They have daughters. And even though Wyld Stallyns still haven't written a song that will save the universe…they get a visitor from the future who tells them they're (still) the key to humanity's survival.
You can probably fill in the rest from there.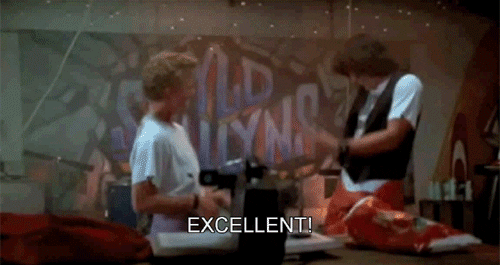 The movie is already in pre-production. The biggest question left? When is the Bill & Ted cereal going to make a comeback??
With Bill and Ted 3 possibly being reality, does this mean a return of their cereal? pic.twitter.com/c2UqhvJa48

— Retro: Old Crap Enthusiast (@ThatRetro) May 8, 2018
Image: GQ Magazine via Twitter