I mean…it was Britney, B***h…
Britney Sears flew across the pond to play at Brighton Pride, in East Sussex, England.
Brighton Pride…. all 57,000 of you are perfectly beautiful. Heard it was a record breaking turnout!!! Thank you for a fabulous show…my fabulous fans. I love you all  🌈🌈🌈🌈🌈 pic.twitter.com/Os1dxf5R52

— Britney Spears (@britneyspears) August 4, 2018
Leave it to Brit to still be breaking records in 2018…they set an attendance record with over 57,000 rabid fans!
Britney Spears concert
2000 / 2018

Your fave? pic.twitter.com/rmN37aaikv

— #Glory (@tilltheworldend) August 6, 2018
If you're curious as to what a Britney Spears show looks like in 2018…check out the set list:
Act I
Work Bitch
Womanizer
Break the Ice / Piece of Me
Act II
Darkness (Interlude)
…Baby One More Time
Oops!… I Did It Again
Act III
If I'm Dancing (Video Interlude)
Me Against the Music
Gimme More
Clumsy
Change Your Mind (No Seas Cortes)
Act IV
Scream & Shout (will.i.am song)
Boys (Remixed and shortened)
Do You Wanna Come Over?
Work It / Get Ur Freak On / WTF (Where They From)
Act V
Get Naked (I Got a Plan) (Interlude)
I'm a Slave 4 U
Make Me…
Freakshow
Do Somethin'
Act VI
Magic Circus (Interlude)
Circus
If U Seek Amy
Breathe on Me
Play Video
Slumber Party
Touch of My Hand
Act VII
Jungle Fever (Interlude)
Toxic
Stronger / (You Drive Me) Crazy
Encore
Till the World Ends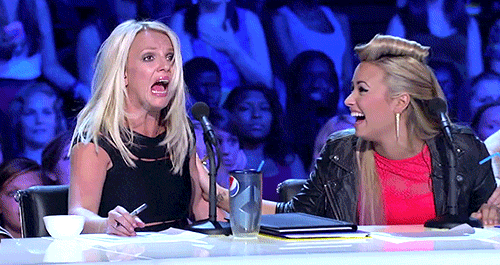 Image: Britney Spears via Twitter