It's not her fault. She's a product of her environment…
Courtney Cox shared a video to her Instagram account this week.
In it, she has friends who are trying (desperately) to move a desk for her…
…and Cox took the opportunity to try and recreate on of the most famous scenes from Friends.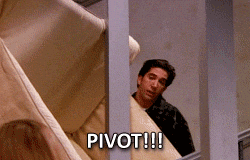 Granted…she wasn't IN the original scene. But still couldn't help herself…from "helping" her friends.
Check out the video:
Image: peter alexander via Twitter