Oh, sure…NOW everybody loves Crocs!
Crocs…the shoe that everybody hates to love…made some waves this weekend.
The shoe company Crocs is closing the last manufacturing factory https://t.co/8yCuRETwms pic.twitter.com/awQ6Agyacs

— CBS News (@CBSNews) August 11, 2018
Crocs announced that they will be shutting down their last manufacturing plant, and the internet has lost it's collective mind.
well if crocs go, i'm going. goodbye.

— ukuleelee 🇮🇹 (@AleahKilgore) August 10, 2018
I really want some crocs before they go out of business

— Kim J (@therealkimj) August 11, 2018
Why are Crocs a thing all of a sudden? I've been wearing them since I was 10 and I used to get bullied for it. 😂

— cath 🌻 (@caferine03) August 11, 2018
Here's the thing: THIS DOESN'T MEAN CROCS ARE GOING AWAY!!
Take comfort, #CrocNation. Our future remains as bright, bold and colorful as ever 😎. https://t.co/cRPlBNHmCx

— Crocs Shoes (@Crocs) August 9, 2018
Here's the official statement from Crocs:
…there have been multiple media reports that Crocs is winding down production in our owned manufacturing facilities. While accurate, some people have interpreted that to mean that Crocs will no longer be making and selling shoes. Quite the contrary, Crocs will continue to innovate, design and produce the most comfortable shoes on the planet. As we streamline our business to meet growing demand for Crocs, we're simply shifting production to third parties to increase our manufacturing capacity.

We're extremely grateful, but not surprised that our passionate fans are rallying around the brand today. Our future is bright, bold and colorful.
Say what you will about the Croc…..you could still be killing your feet in Jelly Shoes…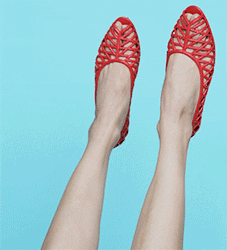 Image: Crocs via Facebook
Source: jezebel.com