We all had at least a few of these back-in-the-day.
If you happened to have saved your "Precious Moments" ornaments, you could be in luck with some extra dolla dolla bills!
Precious Moments is an American gift-ware company that specializes in figurines, ornaments and collectibles The company first released 21 original porcelain collectibles in 1979, and items from that range are now selling for hundreds of dollars on eBay The 'God Loveth a Cheerful Giver' ornament originally sold for $15, but
BRB…scouring my family's collection for the goods!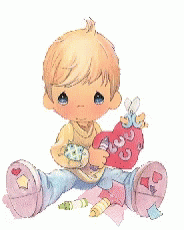 Image: Figurines Sell 4 Value