I admit to having my fair share of cavities growing up.
I can also make a direct correlation between those and my extreme love of Halloween candy, so where was NYC's Dr. Ramin Tabib when I needed him?!
Oh, right, the Internet wasn't a thing yet. Either way, he says, "it's important to let your hair down and let kids be kids, (but) we (need to) make sure that they brush their teeth for a longer period than normal to remove any remaining sticky candies left behind."
As shared with AOL Lifestyle, here's Dr. Tabib's list of the worst candies to help you and yours save some time at the dentist:
Butterfinger – Dr. Ramin has three words to describe the candy: "Sticky. Sugary. Gooey."
Swedish Fish – Because of the stickiness of Swedish Fish, the candy "lingers" around in the crevices of your teeth.
Lollipops – Dr. Tabib says the candy "bathes your teeth for a long time with sugar."
Tootsie Rolls – Another popular go-to, Tootsie Rolls are a cavity haven because they "stick around."
Sour Patch Kids – Kids should also avoid the candy because they are "acidic and bathe mouth in sugar."
LaffyTaffy – "Too sticky!" says the dentist of the candy.
Jolly Ranchers – Jolly Ranchers can literally "break teeth."
Caramel Chews – Like the other candies, the sugar-filled caramel chews are "too sticky!" and can wreak havoc on your chompers.
Gummy Worms – Sour or not sour, gummy worms are very "very acidic!".
Is it so wrong that despite the warnings, reading the list made me want to eat even more sweets?!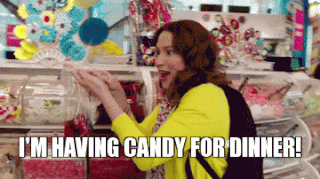 Image: Sunny Badyal DDS on Facebook