It's a reboot that pokes fun at Hollywood reboots.
Kevin Smith got off to a fast start in 2019…tweeting that he spent New Year's Day working on his new flick.
Spent the first day of 2019 having a #JayAndSilentBobReboot pre-pre-production meeting at our holiday-roomy @WeWork office! @JayMewes took this pic of me and @JordanMonsanto to both mark the moment and to document that we were the only dopes in Hollywood working on the holiday. pic.twitter.com/xTNrpN6OF6

— KevinSmith (@ThatKevinSmith) January 2, 2019
Smith long-ago announced that he would be making a sequel to his 2001 movie, "Jay and Silent Bob Strike Back".
(In fact, Winnipeggers lucky enough to be at his Club Regent show last year got a sneak peek at the script…)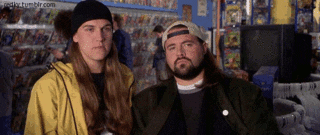 There isn't a time-table set up for a release…but Smith has given us a rough idea of the plot:
"It's a tongue-in-cheek, silly-ass satire that pokes fun at the movie business's recent re-do obsession, featuring an all-star cast of cameos and familiar faces."
HAPPY NEW YEAR! May you accomplish all the things you dream of doing (unless you dream of hurting people)! 2018 was the year that almost killed me, but 2019 will be the year of the REBOOT! pic.twitter.com/IRlRcgmArY

— KevinSmith (@ThatKevinSmith) January 1, 2019