…because this is totally a sane thing to do.
It's going to be a Battle at the Box Office this weekend.
Two highly-anticipated blockbusters go head-to-head: 'A Star Is Born' and Marvel's 'Venom'.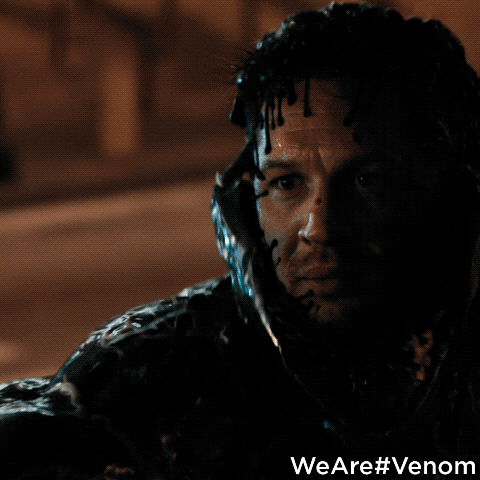 In case you weren't aware, serious Lady Gaga fans can get a bit….rabid.
To the point that some are trying to tank Venom's box office numbers.
.@LadyGaga fans are being accused of fabricating negative reviews of the movie 'Venom' in support of Lady Gaga's film 'A Star Is Born.' Both movies premiere on October 5. pic.twitter.com/3DTqPeWfVS

— Pop Crave (@PopCrave) October 3, 2018
Some Gaga fans…desperate to have A Star Is Born as the #1 movie this weekend…have taken to Twitter to write fake reviews of 'Venom'.
For instance:
I saw #Venom last night and had to leave halfway through, my children wouldn't stop crying at how bad it was. Luckily a second pre screening of #AStarIsBorn was about to start, and now we are all crying, tears of amazement. Please pray for my eldest he is still in a coma.

— Anne Harrison (@AnneHarrisonMom) October 2, 2018
…and…
Oh dear! #Venom was so BAD! I can't believe I actually took time to see it, I mean it was free, so luckily I didn't have to pay for such bad acting! Looks like my daughter is taking me to go see #AStarIsBorn with Lady GaGa and Bradley Cooper to cheer me up!

— Sally Mckallin (@SallyMckallin) October 2, 2018
…oh, and how about…
Okay…that's enough. You get the point.
Is there REALLY that big of a cross-over between the two movies? Is there a big fan base who are ACTUALLY torn over seeing a sappy Bradley Cooper movie and a ruthless, R-Rated comic book flick?
…probably not. Only time will tell.