…like they could do better than Adam Bomb.
Something that may have flown under your radar: They're still making Garbage Pail Kids cards.
In fact, there's a new set coming out in a couple weeks.
Inside Scoop: 2019 @Topps Garbage Pail Kids We Hate The 90s releases in January 2019! https://t.co/rUmIQuJQjz

— SCC Trading Cards (@SCCTradingCards) January 3, 2019
The new, "We Hate The '90s" GPK set celebrates all the 90's pop culture you could muster up.
It features cards based on:
– Our favourite 90's pastimes
– Our favourite 90's snacks
– And even an homage to some of our favourite 90's movies
TOPPS has been steadily cranking out Garbage Pail Kids for the past few years. Maybe you missed the Horror series they just released:
🔪🔪Garbage Pail Kids🔪#Horror🔪🔪 pic.twitter.com/nIHH6OPn0Y

— Jeanne Loves Horror🔪🔪 (@1carolinagirl) January 5, 2019
All we ask is please, please, PLEASE…don't try to reboot the God-awful movie from 1987.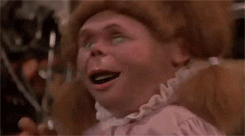 Images: beckett.com