In the days of The Office, you'd never see Jim and Roy pallin' around.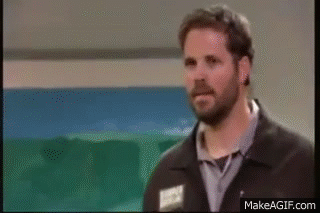 Leave it up to hockey to bring them together! Well, the actors who played them, anyways.
Game 7! Let's do this!!! #NHL #StanleyCup @jennafischer pic.twitter.com/BxMokfdLLr

— John Krasinski (@johnkrasinski) June 13, 2019
Looks like Steve Carell sided with the boys as well.
— Steve Carell (@SteveCarell) June 12, 2019
This was, of course, before the Boston Bruins lost the Stanley Cup to Jenna Fischer's St. Louis Blues!
I love you St. Louis! I love all of you who watched this game at Enterprise Center. I love all of you who watched in the pouring rain from Busch Stadium. From viewing parties and at home! We All Bleed Blue! Congratulations @StLouisBlues Stanley Cup Winners! https://t.co/sGib9JunPl

— Jenna Fischer (@jennafischer) June 13, 2019
Hockey rivalry or not…long live Jim & Pam!
Image: @jennafischer on Twitter