Zack and JESSIE?? Say it ain't so!
Mark-Paul Gosselaar…who played Zack Morris on "Saved By The Bell" …appeared on Anna Faris' podcast "Unqualified" this week.
That's where he dropped the bombshell:
We're so excited, we're so excited by this Saved by the Bell romance. https://t.co/BBu4GuFTtk

— E! News (@enews) January 22, 2019
Off-set, Gosselaar talked about a brief romance he had with co-star Elizabeth Berkley (aka Jessie Spano).
"You know how it is…when you're working on a set, and we were young, there's no one around really. I mean, you work and live in a bubble.

You're in L.A., right. You're in your cars and you come to set and you do your work and you're with these beautiful women and then you go back in your car…and you're not going to school, so you don't have a lot of choices."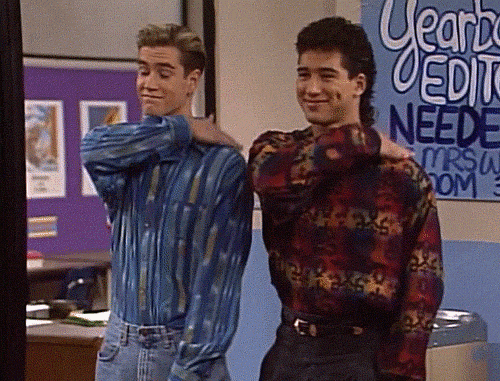 The news doesn't come as a TOTAL surprise…Gosselaar once mentioned in a 2009 interview, "All of us dated at one point or another—it was incestuous."