Excitement for this one has been building for years!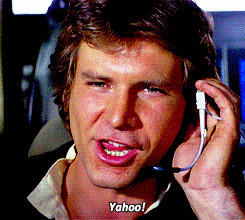 Disneyland's Star Wars: Galaxy's Edge Park may not be open yet, but we've been let in on a sneak peek to get us started!
"Wow." That's all I could manage to think and even say aloud as I stared up at the enormous, full-scale Millennium Falcon in Disneyland's newest attraction, Star Wars: Galaxy's Edge, as I visited with a small group of media last week for a top secret (they even took our phones) preview.
Safe to assume this is going to break theme park attendance records as soon as it opens at Disneyland in May and Disneyworld in August!